My Nutri-School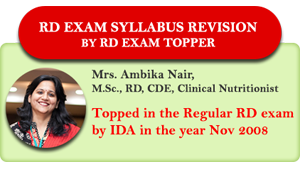 As the population is becoming increasingly aware of the healthy eating habits and moving towards a regime of calorie-conscious diets, there is an increasing need of expert dietitians. You can become a Registered Dietitian with the right skills, educational background and experience. The certified Registered Dietitians can serve as Clinical Dietitians, Community Dietitians, Foodservice Dietitians, Neonatal Dietitians, Paediatric Dietitians, Research Dietitians, Administrative Dietitians, Business Dietitians and Consultant Dietitians.
Mrs. Ambika Nair, the Director of My Nutritional needs, helps the Post Graduate students and those who completed M.Sc several years back and wish to appear for RD, revise and refresh the syllabus related to RD exam. She has been a Lecturer in Post Graduate Institutions since several years and a passionate teacher, with a vast field experience, with proven mentoring skills. (See Ambika's profile for more details.)
As She herself had appeared for RD exam in 2008, after 14 years of passing from College, she felt the need of a Revision class, and decided to offer, refresher sessions as per the requirements of the students.
A module was developed as per the topics related to RD syllabus and hours were allocated for particular subjects with a nominal fee structure.
My Nutritional needs is happy to announce that, Mrs. Ambika Nair, has been guiding students since 2009 and so far around 22 students have cleared the RD exam, with good marks, after her revision classes.
The Refresher module covering all topics of RD syllabus is exclusively a product of Mrs. Ambika Nair, with her own teaching notes and Reference materials prepared by her, specifically for RD exam.
The intention behind conducting such a Refresher course is only to create more Registered Dietitian in India.
For further details about the Revision sessions, Topics covered, Fee structure and Time allotted, queries can be sent by email to info@mynutritionalneeds.com.
RD Exam Syllabus Revision - Online Sessions are starting from second week of November 2018. In case you want to reach us for joining the Revision sessions - Please submit your queries in the Registration form with a mention about your requirement.
Wellness Nutrition
Medical Nutrition Therapy
Weight Management
Corporate Nutrition Program
School Nutrition Program
On-Line Consultation
Hospital Dietetic Department Set-Up
Sports Nutrition Services
RD Examination Syllabus Revision
Academics
Alternative Therapies